CASA Success Story
RESCUE DOG COMFORTS CHILDREN AT FOSTER CARE HEARINGS
It started with an offhand remark. At a juvenile justice conference in 2017, Shaney Starr was chatting with her fellow attendees about ways to get chi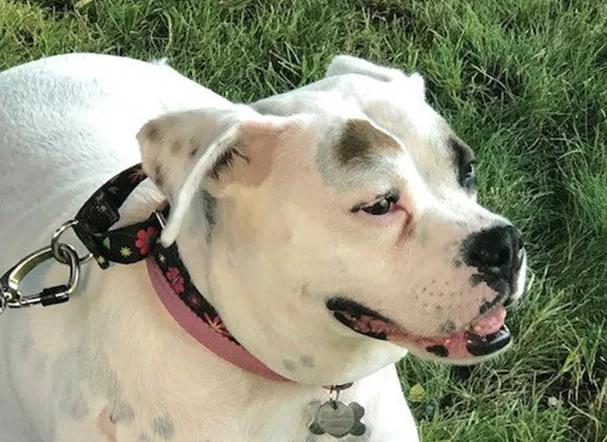 ldren to attend their court hearings and help them feel comfortable once they're there. Starr is the executive director of CASA (Court Appointed Special Advocates) of Marion County in Oregon, an organization that works with children in foster care due to abuse and neglect. She recalls half-jokingly telling her colleagues that they should train a dog to come to court with the kids.
Casual or not, the suggestion took hold. "After processing that for a couple of minutes," Starr says, "everybody thought it was a great idea and said, 'Great. Now what?'"
The former puppy mill dog's sweet personality quickly emerged; she loves to give and get love and "really loves kids," Starr says. It occurred to Starr that Lilly Mae might have the disposition to be that companion for children in court. Starr approached a certified service dog trainer to assess Lilly Mae, asking, "'Do you think she could help me with this crazy idea?' And here we are."
In early 2018, Lilly Mae began the months of training she needed before being sworn in last September at the CASA office. "Do you promise to faithfully fulfill your role as a court-appointed special canine advocate? Raise your paw if you do," asks Cheryl Pellegrini, the presiding juvenile court judge, in a video of the ceremony. Lilly Mae lifts her right paw, and the room breaks into applause.
Lilly Mae is Oregon's first "CASA court comfort dog." Her first official day in court was set for January. Lilly Mae's first client, a 4-year-old girl, fell for her—telling the judge that she'll be bringing Lilly Mae to her next hearing, keeping a photo of the dog in her foster home and even saying good morning and good night to the picture, Starr says.
Court appearances are naturally nerve-racking experiences, Starr notes, and children in foster care are often already dealing with other anxieties: seeing their biological parents but not being able to go home with them, or the stress of being in the same room with their alleged abusers. By calmly sitting close to the children during their hearings, Lilly Mae can help make the children feel safe, Starr says.
"The amazing thing is her story parallels the story of so many of our kids in foster care," Starr says, noting that the puppy mill abandoned Lilly Mae because she has a heart murmur, and she was eventually pulled from a shelter by a rescue group and placed in a foster home. "We just manage her special needs," Starr says, "which is what we do with our foster kids." —James Hettinger