Community
In the Community with Kevin Cameron – Fall 2018 –
Marion County Commissioner
Welcome to "In the Community," this is a listing of the various meetings, events and activities that I will be engaged this fall. Attending these meetings and events allows me the ability to meet with a wide variety of business leaders, citizens and other elected officials. If your schedule allows please join me and be sure to say hello.
For details on all reoccurring public meetings either attended, or hosted by the Commissioners please visit http://www.co.marion.or.us/BOC/Pages/newsevents.aspx
Community Meetings and Events:
Salem Area Chamber of Commerce Public Policy Meeting-
Typically the first Thursday of the month7 @ 7-8:30 AM, Chamber offices, 1110 Commercial Street NE, Salem 97301 (be sure to check their website for updated information)
SEDCOR Business Luncheon-
Typically the second Wednesday of the month, beginning in October @ noon-1:30 PM, Broadway Commons, 1330 Broadway Street NE, Salem 97301 (be sure to check their website for updated information)
French Prairie Forum –
Typically the third Wednesday of the month, @ 2-4 PM, OSU North Willamette Research & Extension Center, 15210 Miley Rd NE, Aurora 97002 (be sure to check their website for updated information)
Aurora Airport Economic Development District Meeting-
Typically the last Thursday of the month @ 10-11 AM, Helicopter Transport Services, 14497 Keil Road NE, Aurora (be sure to check their website for updated information)

Weekly Board Meetings of the Commissioners
Wednesday's @ 9-11 AM: Weekly Board Sessions, Senator Board Room, 1st floor, Courthouse Square 555 Court Street NE, Salem. For agenda please go to: http://www.co.marion.or.us/BOC/WkCalAgen.htm
All of these meetings and events are open to the public and you are more than welcome to attend. For complete details contact Raquel @ raquel@kevincameronfororegon.com or 503.269.0915.
** ** ** ** ** ** ** ** ** ** ** ** ** ** **
Kevin has served on, supported or otherwise been a part of the following Salem area organizations:
Boys and Girls Club of Marion Polk Counties Inspiring  and enabling all youth ages 6-18, especially those who need us most, to rea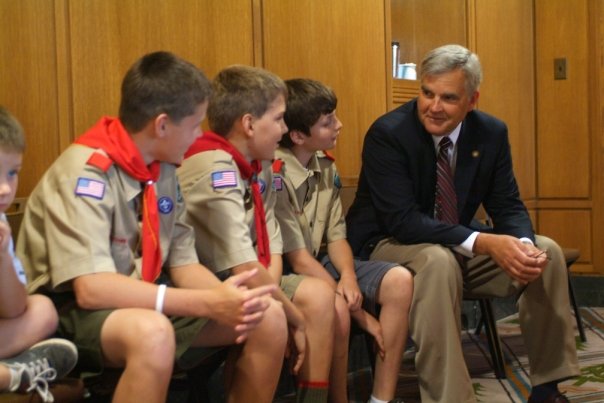 lize their full potential as productive, responsible and caring citizens through the development of a positive self-image and self-reliance.
Cascade Pacific Council Boy Scouts Provides services and youth-development programs to families and community organizations in eighteen counties of northwest Oregon and southwest Washington states.
Corban University Business Executives Corban University is an independent Christian university in Salem, Oregon, with more than 50 majors and programs of study including professional, liberal arts, and ministries.  CUBE is a new endeavor to connect current students with alumni and local business leaders.
Family Building Blocks FBB serves families with infants and young children who are struggling with difficult life circumstances.  Our goal is to provide early intervention that builds successful and resilient children, strengthens parents, and preserves families through an array of comprehensive and integrated early childhood and therapeutic family support services.
Liberty House Marion County's only child abuse assessment center providing special assessment services in a safe, comfortable, child-friendly environment.  Since 1999, Liberty House has provided child-focused, high quality assessment services to children when adults are concerned that they may have been hurt by sexual abuse, physical abuse or neglect.  With compassion and expertise, medical providers conduct complete medical examinations for the children coming to Liberty House.
Marion Polk Food Share Working in partnership volunteers, the board of directors and MPFS staff  provide adequate sustainable resources and programs to meet the hunger needs of our community, both residents and visitors while working together to identify and eliminate the root causes of hunger.
Morning Star Community Church A worshiping family, growing in our faith, loving God and neighbor, serving with our gifts, sharing with the lost…all for the glory of Jesus Christ.
Operation Love Boxes Providing boxes filled with goodies and encouraging notes to our troops abroad.
OSU Alumni Association A member-based, nonprofit organization that promotes OSU and engages alumni
Marion County Reentry Council Inmates face many challenges upon release prison. Ensuring to the greatest degree possible that offenders have the tools they need to be successful after their release from custody serves a fundamental public safety interest for Oregon's communities. Many of our local and state agencies share a common mission in protecting the public's safety. We are challenged to identify ways to break down the barriers that are faced by those who are released from our custody so that they have the opportunity to be productive members of society who do not return to criminal activity.
Salem Area Chamber of Commerce This organization is about innovation and relevance.  A talented and committed staff help make their members more successful in the pursuit of their business objectives.
Salem Area Young Life A disciple based organization lead by adults concerned enough about kids to go to them, on their turf and in their culture, building bridges of authentic friendship. Through time, patience, trust and consistency lives are changed.
Salem City Club Established in 1967 for the purpose of engaging the local community in conversations, topics and issues that inspire all to be better informed members of the community.  SCC is a volunteer led organization and are dependent upon member and community support to further our mission.
Salem Keizer Schools Foundation A catalyst for the enhancement of the education and development of all Salem-Keizer youth by providing resources for creative and innovative programs and materials, educating and mobilizing the community, and sustaining collaborative partnerships that support its goals.
Salem Leadership Foundation Engaging People of Faith and People of Goodwill to transform the community, neighborhood by neighborhood. We Build Bridges among Stakeholders:  people, churches, schools, agencies, cultures, business, non-profits, and neighborhoods.
* * * * * * * * * * * * * * * * * * * * * * * *  * *
WELCOME TO MARION COUNTY &
THE MID-WILLAMETTE VALLEY ABSOLUTELY OREGON!
Summer 2015
From minor league baseball to bird sanctuaries, covered bridges, acres of gardens, world renowned vineyards to memorials honoring our soldiers and veterans, Marion County offers an expansive array of attractions, events and activities year round for the entire family. Featured below are the twenty-two cities in our county and at least one of their famous homegrown activities!
Aumsville Corn Festival and Parade, late August, parade starts at 11 AM, festival at Porter-Boone Park, 1105 Main Street, begins at noon, Aumsville. Traditionally this event is hosted the weekend prior to Labor Day. For all the details visit City's web site at: http://www.aumsville.us/corn-festival-information.html
Aurora Colony Days, early August, Aurora City Park, 21075 Main Street, Aurora. Outdoor Antiques & Vintage Faire, Art Show & Sale, 1K Kid Fun Run & 5K walk/run, Pancake Breakfast, Parade and the very popular Aurora Summer Concert Series! For all the details visit: http://auroracolonydays.com/
Butteville featuring the Historic Butteville Store, the oldest operating store in Oregon is open daily for visitors. For all the details visit: http://www.champoeg.org/attractions/historic-butteville-store.html
Champoeg has an extensive visitor's center with interpretive exhibits showing Oregon's road to statehood and Native American heritage. For all the details visit: http://www.champoeg.org/
Detroit is an outdoor recreation destination spot an hour's drive from Salem. It features the number one lake attraction in the state of Oregon – Detroit Lake. For all the details visit: http://www.detroitlakeoregon.org/
Donald along the I-5 corridor features the famous Donald Cafe, the Skate Park and the historic Oregon Electric Railroad Station Building on the corner of Williams and Main. For all the details visit: http://www.donaldoregon.gov/
Gates is a quiet town on Hwy 22 heading east. During the summer they host a weekly Saturday Market and it is home to river front recreation along the North Santiam River.
Gervais a small rural community surrounded by vast farms and nurseries is host to some interesting history and annual independence celebrations, both Cinco de Mayo and the 4th of July. For all the details visit: http://www.gervaisoregon.org/
Hubbard located on Hwy 99E is home of the Annual Hubbard Hops Festival held in late July. The Festival includes a parade, beer garden, games for young and old, musical entertainment, food, craft booths, and much more. For all the details visit: http://www.cityofhubbard.org/city_of_hubbard_hop_festival.html
Idanha's Annual Community Potluck held in the summer is a testament to small town Americana. Located east of Detroit on your way to Sisters Idanha has river front recreation opportunities along the North Santiam River. Be sure to stop in at the Idanha Grill located at 183 Santiam Hwy Idanha, OR 97350, you won't be disappointed.
The Jefferson Mint Festival, mid July. Hoppin' Thru the Mint, Parade: 11am, Festival: Noon – 8pm. Middle School Sports Complex, Jefferson. For all the details visit: http://jeffersontogether.com/jefferson-mint-festival.html
Keizer one of the more recently incorporated cities, 1982, is home to the Annual Iris Festival and Parade held in mid-May. The recently renovated Keizer Rapids Park is a must for all families. For all the details: http://www.keizer.org/
Mill City is nestled in the foothills of the Cascade Mountains and is divided by the North Santiam River. They are known throughout the region for their Fourth of July festivities as well as the river front recreational opportunities. For all the details visit: http://www.ci.mill-city.or.us/
Mount Angel Abbey: St. Benedict Festival, mid July and the Bach Festival, late July. Mount Angel Abbey, 1 Abbey Drive, Saint Benedict, 97373. Experience music and enjoy the pleasure of Abbey food and music at their distinctive Hilltop and its beautiful surroundings in a picnic setting. For details on events visit: https://www.mountangelabbey.org/bach/
St. Paul located northwest vicinity of Marion County, parallels the Willamette River and the French Prairie. It is home to the Annual St. Paul Rodeo held over the Fourth of July weekend. It is surrounded by lush farms with flat prairies and rolling hills providing visually stunning vistas.
Salem – the seat of Marion County and the State Capitol has year round activities, museums, restaurants, theatre and music. For an extensive listing of things to do, places to eat and visit in Salem and the surrounding region visit: http://www.travelsalem.com/
Scotts Mills located on the eastern edge of Marion County just south of Wilsonville on Hwy 213. Their early August Summer Fest features street dancing, a parade, food booths and vendors. For more details visit: http://www.scottsmills.org/
Silverton is home to Silver Falls State Park. People call it the "crown jewel" of the Oregon State Parks systems. Once you visit you know why Silver Falls State Park is the kind of standout scenic treasure that puts Oregon firmly onto the national-and international-stage. Nestled in the foothills of the Cascade Mountains, less than a half hour east of the state capital of Salem, the sprawling 9,200 acre proper is the largest state park in Oregon and one of the most popular. For more details visit: http://www.oregonstateparks.org/index.cfm?do=parkPage.dsp_parkPage&parkId=151
Stayton a picturesque town located 15 minutes east of Salem is famous for their annual Santiam Summerfest held in early July. For more details visit: http://www.staytonoregon.gov/
Sublimity located next door to Stayton hosts the annual Harvest Festival, the weekend after Labor Day. For details visit: http://www.sublimityharvestfestival.com/home.php
Turner is host to the Annual Marion County Lamb and Wool Festival and Turner Celebration. Burkland Park, Turner. For all the details visit: http://marioncountylambandwoolshow.yolasite.com/
Woodburn, just 30 minutes north of Salem along I-5, is the heart of Oregon's nursery trade; with the railroad still situated in the heart of town. May is Tulip Festival time at the Wooden Shoe Tulip Farm just east of downtown Woodburn. The first weekend of August is traditionally the Woodburn Mexican Fiesta held at Legion Park Woodburn. This is one fiesta you and your family won't want to miss! For details visit: http://www.woodburn-or.gov/?q=node/392