Time in Seattle with Commissioner Cameron

Expanding employment opportunities for people with criminal backgrounds
Last week I had the privilege to travel to Seattle to participate in the Second Chance Summit hosted by Dave's Killer Bread Foundation. The summit focused on employment for people with criminal records. The event featured testimonials from employers and employees. One of the initiatives highlighted during the summit was the Second Chance Hiring Initiative which helps to educate and encourage employers to hire individuals who have a criminal record. For many employers learning how to overcome HR issues faced when hiring from this population and why it may be the right approach to their skill and talent needs is the first step in supporting people who have turned their lives around and desire to be an active, contributing part of their local communities.
Employee and employer panels were an integral part of the summit. What stood out to me was the loyalty that was shared between the employee and employer. In today's very tight labor market finding good employees is difficult, but having longevity and loyalty is an added asset.
I have served on the Governor's Re-entry council since 2007 and currently co-chair the sub-committee of Business Engagement. Our team is currently working on plans to bring the Second Chance Summit to several regions in Oregon, beginning with a kickoff event here in Salem. I'd like to recognize Dave's Killer Bread and the work of their Foundation for contributing experience, resources, and passion to help make a difference in the lives of many.
Traveling to Seattle is not always the best of experiences with heavy traffic in Portland and Seattle. If you haven't tried the train you should! Amtrak from Salem to Seattle is a nice way to relax. You can use the internet, work, read, or take a nap! I enjoyed that part of my trip as well.
Please remember my door is always open and I welcome your thoughts, comments and concerns.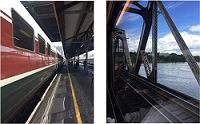 June 18, 2017